Konstantia Gourzi: Paharión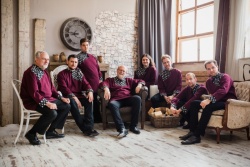 When:

16. June 2019, Sunday 16:00 h

Where:

Downtown Evangelic Church
Miskolc

Category:
"Paharión, the Red Angel in the Garden of las Huelgas is the combination of sounds from the Eastern and Western liturgical traditions and 21st-century contemporary music played on traditional and modern instruments. The piece combines fifteen sound dialogues between different cultures: the Gregorian and Byzantine voices meet Western instruments like violin and clarinet as well as traditional ones from Eastern countries like the lyre and ney." (Konstantia Gourzi)
Performed by:
Vassilis Agrokostas – psalm singer, lyra
Harris Lambrakis – ney
Miltiades Papastamou – violin
Slava Cernavca – clarinet/bass clarinet
Saint Ephraim Male Choir (artistic director: Tamás Bubnó)
Conducted by: Konstantia Gourzi
Tickets: 2000 HUF
Venue:
3525
Miskolc,
Hunyadi u. 8.