Pietro Mascagni: Iris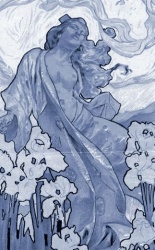 When:

22. June 2019, Saturday 19:00 h

Where:

Category:
Opera in two parts, three acts, in Italian
Libretto: Luigi Illica
Guest performance of the Josef Kajetán Tyl Theatre (Plzen, Czech)
Cast:
Iris – Ivana Veberová
The olda Blind – Jevhen Šokalo
Osaka – Paolo Lardizzone
Kyoto – Csaba Kotlár
Gesa – Jana Foff Tetourová,
The Trader – Khan Amin
Vampire – Tiszai Adrienn,
The Beauty – Plachá Kateřina
Death – Clementi Charlot
Conductor: Jiří Štrunc
Directed by: Tomáš Pilař
Set Design: Petr Vítek
Costume Design: Ivana Ševčík Miklošková
Pietro Mascagni is known to opera lovers mainly for his opera Cavalleria Rusticana. But he wrote fifteen operas and Iris is a real gem among them. Opera Iris takes us to ancient Japan and tells a story balancing between reality and myth. A poor girl called Iris falls in love with a wooden puppet for which she leaves the safety of her home. A rich nobleman Osaka kidnaps her and sells her to a brothel; Iris kills herself in despair and her soul wanders through darkness and turns into sunshine at the end of the opera. The work offers an unusually dramatic plot, stunning music and poses a number of serious questions regarding the fundamental essence of life and death. The composer's seventh opera premiered on 22 November 1898 in Rome, six years before Puccini's famous opera Madama Butterfly. Iris was first performed in Pilsen on 13th April this year and this will be their first guest performance in Miskolc.
Tickets: 4800 / 3400 / 2000 HUF
Venue:
3525
Miskolc,
Déryné u. 1.
|
Website