Igudesman& Joo – A Little Nightmare Music Show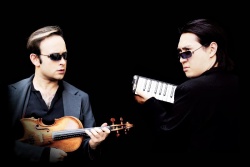 When:

21. June 2019, Friday 18:00 h

Where:

Category:
Just when you thought it was safe...
The concert begins. The music is sublime. Not even a pin would dare drop. Suddenly, a cellphone rings and the madness starts. The pianist loses his hand, the violinist, while tuning, falls asleep, and later wakes up in the middle of a motorway, transformed into a "Riverdancer". When the pianist returns, the piano is locked, telling him to insert his credit card. He just talks on the phone while reading a paper, eating, and, playing the piano upside down all at the same time. These and many other "nightmares" unfold before audiences' eyes and ears.
IGUDESMAN & JOO have received acclaim for their interpretation of a concert night from audiences all over the world. The show has reached thousands in concert halls ranging from LA Bowl and Carnegie Hall in the West, Concertgebouw Amsterdam and Philharmonie Berlin, to Hong Kong City Hall Theatre in the East.
"A Little Nightmare Music" is a unique show, full of virtuosity, enchanting music and zany, outrageous humour. Ideal for audiences aged 8 to 88, this show is sure to captivate you and crack you up whether you're a classical music enthusiast or the type who runs for cover, at the mere men¬tion of Mozart.
"Aleksey Igudesman and Hyung-ki Joo played at my 80th birthday celebrations. I nearly died laughing. I'd like to invite them back for my 85th, but that might be considered reckless...... Great musicians, great fun."
BERNARD HAITINK — conductor
"Aleksey Igudesman plays with a bow made by the Boston-based bowmaker, Benoit Roland, and on a Santo Seraphin violin from the year 1717, which is kindly loaned to him by ERSTE BANK. Aleksey Igudesman plays on handmade strings by Thomastik Infeld. Hyung-ki Joo is a Steinway Artist. Aleksey Igudesman and Hyung-ki Joo wear clothing by CLEOFE FINATI – Haute Couture 100 % made in Italy."
(Fotó: Julia Wesely – www.igudesmanandjoo.com)
Tickets: 4000 HUF

Venue:
3525
Miskolc,
Déryné u. 1.
|
Website